Chapter2 Rere Disc Brake Frameset, Green+Aqua - Options
Save

30

%
Original price
$3,599 USD

Chapter2 Rere Disc Brake Frameset, Green+Aqua - Options. This is a special order we can ship in approximately a week and half!
***Pictures as full bike for reference only***
RERE means "to flow" in Maori. RERE is a FULL-AERO frame designed to cheat the wind. With Michael's experience in designing a number of Aerodynamic Road and Time Trial/Triathlon rigs, the RERE is the culmination of knowledge and experience in this very specific genre of bikes. Drag (air resistance) is the one thing that all cyclist battle against and the RERE has been designed to slice through the air with Aerodynamic profiles applied to the all exposed surfaces and rigorously tested at Auckland University Wind Tunnel across a wide range of Yaw on both drive and non-drive sides.
The RERE has been designed with quality of ride in mind, and that means a well-balanced geometry, allowance for wider format tires and a carefully engineered Toray® carbon lay-up schedule throughout to deliver an engaging ride, letting you push beyond your limits and explore the road less travelled.
As with any new frame design project, the geometry is the foundation to an awesome ride. Using an extensive database of ergonomic data we were able to map out the ideal geometry that matches both the seasoned pro and weekend warrior. The RERE's geometry has a linear stack and reach correlation from XS all the way to XL just like the human body.
Married to this balanced geometry is a beautifully designed aerodynamic form factor that accelerates the whole experience, employing vibration dampening "kinked" chainstays and directional high tensile carbon in the BB and head tube areas for engineered compliance, power transfer and steering "like it's on rails".
Whilst the RERE has been designed to be an aerodynamic race machine, no short cuts have been taken to ensure that overall sensation is silky smooth with climbing traits expected of a pro level rig. The fork crown has been seamlessly sculpted to the aero fork leg and designed to be used with aerodynamically superior Direct Mount brakes that also offer more tire clearance.
We know that your bike is an extension of your lifestyle, as it is ours. And we know how important it is to have bragging rights to the coolest looking kit on your local bunch ride/race. CHAPTER2 bikes come in two different collections. The ESSENTIAL Collection is the tried and tested but still uniquely CHAPTER2 Matt + Gloss Black. The LIMITED Edition changes every 6-8 months and is produced in limited quantities only. Once sold out The LIMITED Edition design, will never be produced again. This gives you the opportunity to own a unique design statement and stand out from the crowd.
The whole package is finished off with a compliant dual orientation (TT/Tri) carbon seatpost, concealed integrated seatclamp, internal cabling and a matching stem and headset to create an elegant yet exhilarating ride.
If you want the total package, we also offer the MANA Bar + Stem system for precision steering and engineered compliance in a form factor that slices through the air.
FRAME SPECS:
Carbon: Toray® T700, T800 & 3K Directional Carbon.
Frame 5 Sizes: XS, S, M, L & XL
Fork 2 Sizes: XS, S (53mm offset) and M, L, XL (43mm offset)
Frame Weight: 998g (Rim) Size M & 1050g (Disc) Size M +/- 3%
Fork: 398g Uncut & 435g (Disc) Uncut +/- 3%
Seatpost: Reversible Seatpost 198g +/- 3%
Stem: 80mm, 90mm, 100mm, 110mm and 120mm (+/-7°)
Headset: CHAPTER2 Tapered 1-1/8" – 1.5"
BB: Press Fit BB86.5
Electronic Shifting: SHIMANO® Di2, SRAM® eTAP & Campagnolo® EPS compatible
Battery Type: Di2 SM-BTR-2 and EPS V3 Battery compatible
Tire Clearance: 28mm
Brake Type:Direct Mount - Compatible with following:
Shimano
Sram
Campagnolo (M, L & XL Only)
TRP T980
eeBrake (not compatible)
Disc Thru-Axle Spec: Flat Mount FR 12x100mm, RR 12x142mm E-Thru M12x1.5mm
Safety Standard: EN ISO 4210:2014
UCI Accreditation: UCI Approved
TORQUE SPECS:
Saddle Rail: 12Nm
Integrated Seatclamp: 7-9Nm
Stem (Steerer): 6Nm
Stem (Handlebar): 6Nm
Front Derailleur Hanger: 3Nm
Rear Derailleur Hanger: 2Nm
BB Cable Guide Cover: 1Nm
Water Bottle Cage Bolts: 3Nm
GEOMETRY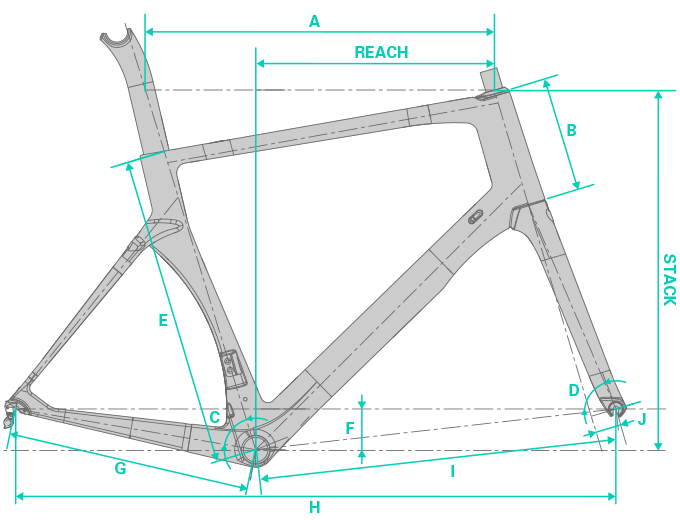 WHAT YOU GET:
Frame
Fork
Stem
C2 fork expansion bolt
Headset
Headset spacer kit
Seatpost
Thru Axles
All our products are professionally packed and shipped with tracking number and insurance. Lafo Bikes is offering you high end bikes, frames, parts & accessories that we love.  We are selling only genuine products, no copy or replica. Our goal is to offer you the best price on amazing bikes.